PAX South is a wonderful gaming convention located in San Antonio, Texas. Crytivo already had the opportunity to visit the show back in 2017, but we enjoyed it so much we had to come again! This time, we were bigger and more colorful than ever, thanks to custom computer stands designed by our team. Our booth looked glorious.
We arrived in San Antonio a few days earlier, affording us time to assemble and beautify our bit of floor without a rush. However, things never really happen without a hitch. The second day saw the unfortunate discovery that the power supplies in our stand, whose purpose was to run the fans and LED lighting, were overheating like crazy. We ran into many old friends at PAX South, but we hilariously also got a visit by our dearest enemy, a lack of electricity. After having no power for a day at Gamescom 2017, we praised the sun that the issue was resolved prior to the big event this time around.
Launch day!
This was destined to be a long day, but the highlights more than made up for it. We woke up at 6am, grabbed a handful of coffee each, caved at the thought of consuming it raw so we gave it a bath first, threw together some sandwiches, and strolled down the street to the show like a few discount John Travoltas. Once we arrived at the dancefloor, and connected all of the laptops and a couple lights, we were amazed at the final product. The booth was strikingly attractive. It sparkled from a distance, winking seductively at those who looked its way. Our logo was the standout winner at the event, with attendees complimenting us throughout our time there.

Maria Grønlund is the designer behind the wonderous logo now plastered across our hearts (and, well, all of our branding). Maria and Alex Koshelkov worked on the logo for quite some time, and we simply cannot imagine a better fit for the company culture. Take another look at it: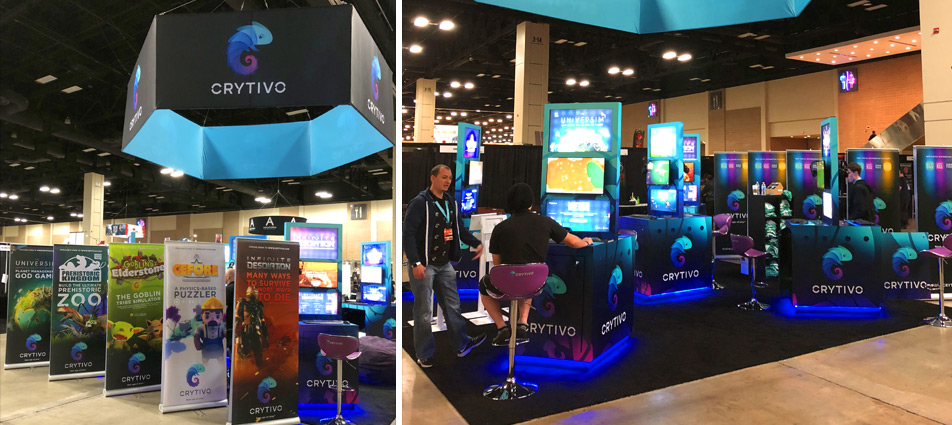 During the event, our fans were able to swing by and try out The Universim, Goblins of Elderstone, Cefore, Prehistoric Kingdom, and Infinite Desolation. There were questions thrown around, answers thrown back, joyous cheers, and an overall atmosphere of fun. As we hoped, every game found its own audience. We also received plenty of praise from fellow developers (who we think are freaking amazing, too) and streamers (who were exceptionally good at buttering us up).


We are so happy that all of the effort behind the stand and the games was worth it! The traffic almost never died down, and every game station had a gamer's rear parked in it at all times. We also cannot overstate how much we appreciate all of our fans who dropped by, offering their love, warm smiles, and countless words of encouragement. All of the free T-Shirts and Crytivo Coins were just a small way of saying how much we love you! Also, shout out to the people who asked if they could buy a shirt before realising that they were free. Seeing your faces light up after the news really brightened our day (also, we're so glad you liked the shirts that much)!


Now, you can probably imagine how we felt after a day like that. No matter how much fun you have, exhaustion is still a thing. Luckily, our Airbnb had a hot tub, and we really made use of it. There might have been tequila, we can't remember, but the memory of the absolutely gigantic pizza we ordered from a local restaurant is something that will stick with us forever. Seriously, though, this thing was like the Godzilla of pizza. The Uber Eats driver had to fold his back seats to fit it in.


The end of an event is always a little sad. The fun police came through, packed away our booth, and locked it up in local storage for a year. You know what that means? PAX South 2019 is a go! It's greenlighted. We don't need confirmation from the showrunners. Absolutely nothing can change or go wrong in a year. Wooo, see you there!

On a serious note, it was an absolute pleasure to chat with all of you and give you a chance to play our new games. We couldn't do it without you! If you enjoyed any of these titles, most of them are now available through the Crytivo Store. Head on over and see if you can find something you like.

In further store news, you can expect to receive Crytivo Coin codes from time to time. You can activate any Crytivo Coin code or voucher in your vault at www.crytivo.com/myvault. If you don't know what these do yet, they basically give you discounts on any purchases you make from the Crytivo Store. We cover the costs of this, not developers. It's our way of giving something back to you for your support.

We hope you are pleased with everything that the Crytivo Store has to offer. We plan to add more games to the store in the coming weeks, as well as continue to improve every aspect of our service. We have received many applications from developers who would like to sell their games through the store, but unfortunately we will not be adding all of them. With the Crytivo Store, we shoot for quality over quantity, to ensure our fans have a truly special place to shop for new experiences. Thank you for your support! If you appreciate our drive to make gaming better, sharing the store with your friends and family will help us immensely.
All the best,
The Crytivo Crew

R31X24
Expires: February 10, 2018 | Activate: www.crytivo.com/myvault