Greetings, everyone!

What better way to usher in the new year than with a delightful trip to PAX South? Come join us! We will be showcasing a whole slew of great titles at our booth, including Goblins of Elderstone, Prehistoric Kingdom, Infinite Desolation, Cefore, Football Story, and The Universim. If you manage to grab a ticket, come grab some free swag as well! We'll be awaiting your arrival. Give our devs a big hug, give our games a play, and we'll give you some epic loot to take home (like a fistful of Crytivo Coins).
We would also like to thank the fantastic people over at Alienware for sponsoring the beastly hardware you'll be playing on during the event, as well as the fine folks at Sumo Lounge for hooking us up with the most glorious bean bags to ever grace our bottoms. It is going to be a real treat!
Oh, right, it's probably important you know where to go. We're at booth #10447. Phew, nearly forgot that part with all the excitement. See you there!


We're at booth #10447
See map >


Oooo, shiny!
Our stand is going to look mighty spiffy this year, even if we do say so ourselves. Just take a look at these designs. They are all custom-made to ensure we're amongst the prettiest booths at the ball.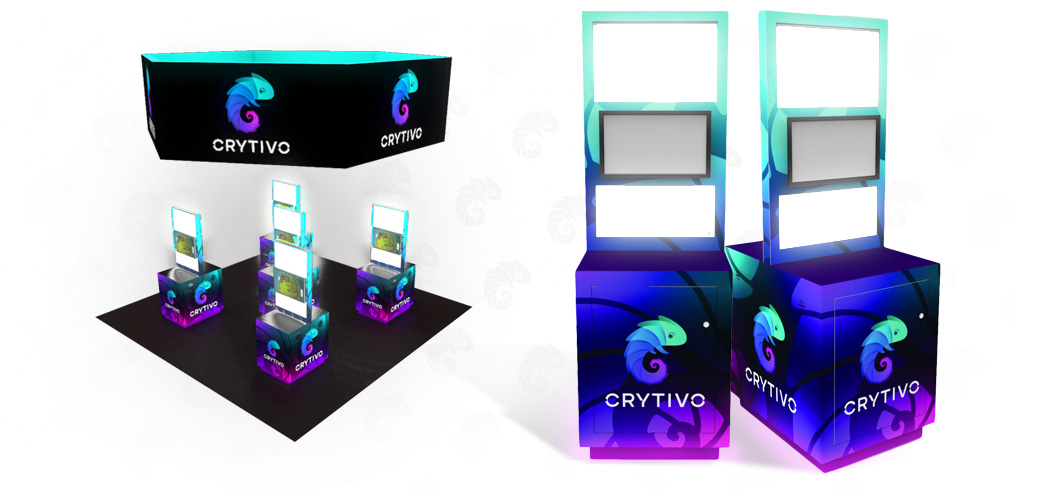 Want to learn more about our lineup?
Here are the games we can't wait to show you:
Goblins of Elderstone

Build the ultimate goblin tribe through war, trade, or faith. Discover the many stories hidden within the world of Elderstone.

Cefore

Forget building, this game is all about blowing things up! If you enjoy destroying things in creative ways, this physics-based puzzler is just for you.

Infinite Desolation

Survival against all odds! Level up your skills, build your arsenal, and get ready to drive your will to live straight through the relentless hordes you encounter along the way.
Prehistoric Kingdom

Make your dream zoo a reality! In the vein of classic tycoon games, build and manage a prehistoric park unlike anything the world has seen before.

Football Story

A whole new breed of football game that pits full teams of players against one another. Hone your skills, level up, and experience endless competitive fun.

The Universim

A quirky god-game that is sure to capture your heart. Guide a civilization from the dawn of a species to the age of galactic exploration.

If you're in town, don't forget to stop by! We would love to meet you or rekindle an old flame.
All the best,
The Crytivo Crew